Themed books can help the holidays come alive for kids!  Of course there are the classics – Twas The Night Before Christmas, How the Grinch Stole Christmas, The Polar Express – but if you're looking for a few fresh Christmas Stories to update your holiday library, here are 10 ideas you may not know about yet.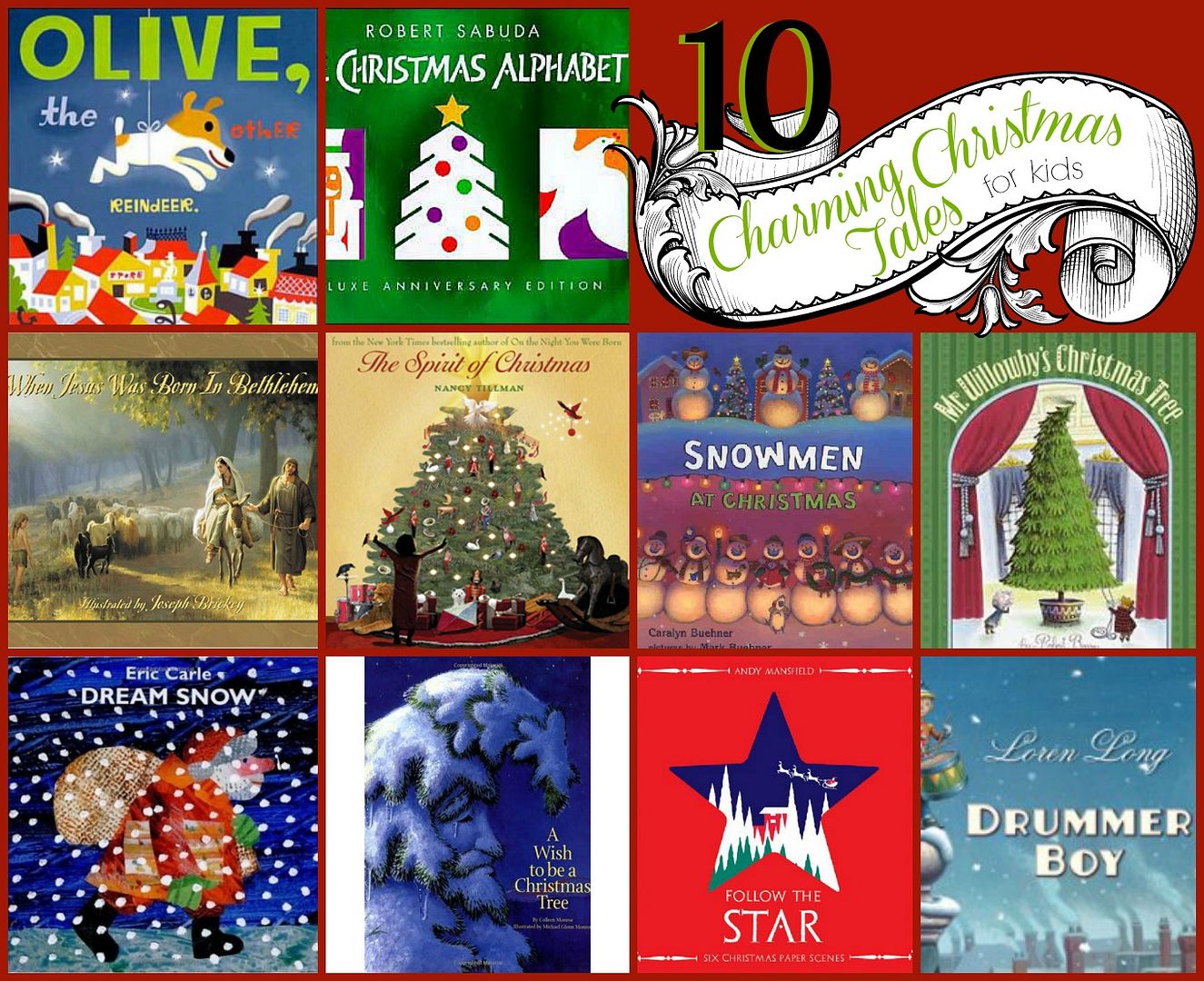 1. Olive, The Other Reindeer by Vivian Walsh – Olive always thought she was a dog, until she realizes the Christmas song is talking about her, "Olive, the other reindeer!"  So she hops on the Polar Express and heads to the North Pole.  Can she offer anything useful to the regular reindeer team?  It's a hilarious read with fun, graphic illustrations that will make your Christmas merry.
2. Christmas Alphabet Deluxe Anniversary Edition by Robert Clarke Sabuda – This beautiful pop-up version of Sabuda's Christmas book celebrates the sights and symbols of Christmas.  Kids can learn about the alphabet and Christmas, as well as artistic elements of form, color, space and composition with the elegant and imaginative paper pop-ups.
3. When Jesus Was Born in Bethlehem by Joseph Brickey – This is a beautiful way to share the story of the first Christmas with your kids.  Gorgeous paintings tell the story of Christ's birth in a moving way.
4. The Spirit of Christmas by Nancy Tillman – A beautifully illustrated picture book that will help your child understand the spirit of Christmas.  Sleds, jingle bells, Christmas trees, candy canes and presents are all fun parts of the holiday, but the true magic of the season comes when you spend Christmas with those you love.
5. Snowmen at Christmas by Caralyn Buehner – The snowmen from Buehner's "Snowmen at Night" are back to share how they celebrate Christmas!  The fun, rhyming text and silly snowmen pictures make this an entertaining read for kids.
6. Mr. Willowby's Christmas Tree by Robert Barry – Mr. Willowby excitedly sets up his Christmas tree which was sent by special delivery!  But he didn't realize it would be much too tall… He trims the top, which ends up as a Christmas tree for his maid, but it's too tall for her.  When she trims the top, it ends up as a Christmas tree for the gardner.  And on it goes… each person's trimmings ending up as a tree for someone else.
7. Dream Snow by Eric Carle – It's Christmas Eve and the Farmer settles in for the night wondering how Christmas will come with no snow.  In his dream, he imagines a snowstorm covering him and his animals, but when he wakes up he discovers the dream has come true!  Then he remembers he has a wonderful Christmas surprise in store.  Told in classic Eric Carle style, the lively collage-like illustrations and a simple, endearing story will make this book a favorite.
8. A Wish To Be a Christmas Tree by Colleen Monroe – A poor, overgrown pine is passed by Christmas after Christmas.  What can his woodland friends do to help?  Follow the enchanting text and delightful illustrations to see if this tree's wish will come true.
9. Follow The Star by Andy Mansfield- This pop-up book features intricate, graphic paper pop-ups and cut-outs.  The beautiful spreads are accompanied by a delightful story about the Christmas star. Follow the Christmas star on magical journey, including its first night in the sky above Bethlehem, lighting up a giant Christmas tree and shining high above Santa's flying sleigh; this book ties all the magic of the season together.
10. Drummer Boy by Loren Long – The classic Christmas song, "The Little Drummer Boy" is brought to life through amazing illustrations and charming text.  Kids will get a taste of true magic as they follow the Drummer Boy in the story on an accidental adventure after he is knocked into the trash.
Featured Image via Amazon.
Kimberly Mueller is the "me" over at bugaboo, mini, mr & me, a blog that highlights her creative endeavors. She especially likes to share kid crafts, sewing attempts, recipes, upcycled projects, photography and free printable gift tags/cards. When she's not enjoying being married to her best friend, chasing after the natives (AKA her three kids) and attempting to keep the house in one piece, you can find her with a glue gun in one hand and spray paint in the other. Aside from DIY pursuits, she also enjoys writing, reading, music, singing (mostly in the shower) and the color yellow. Kimberly recently published a craft book entitled Modern Mod Podge. You can also find her on Facebook, Pinterest,Bloglovin' and Instagram. Email her at: bugabooblog(at)yahoo.com
Here is more inspiration:
Adult Gift Ideas                     Elf on the Shelf Ideas           DIY Christmas Wreaths